Cover photo by Still for Style / Shutterstock.com
Whether it's Christmas, Hanukkah, New Year's, or some other popular winter celebration, 'tis the season for celebrating.
If you think Americans are the only people who know how to light a yule log, think again.
Germans practically invented Christmas. This country pulls out stops even Kris Kringle doesn't have time for. From the extravagant Christmas markets to steaming glühwein, there is enough festive cheer to warm even the scroogiest heart.
For Americans abroad interested in reading up on the local celebrations, here are a few German traditions that are worth delving into this holiday season.
Holiday Food
If you love the smell of cookies, you have come to the right place. Many Germans set aside multiple evenings throughout the month to bake traditional fruitcakes, called "Stollen," gingerbread cookies, called "Leb­kuchen" and "Plaetzchen," Christmas cookies.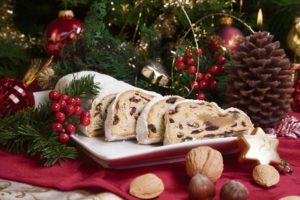 Bochkarev Photography / Shutterstock.com
Advent Calendars
From cardboard pop outs to traditional Advent wreaths with 24 little gifts attached, the month of December in Germany is all about the countdown. Many Germans put a fresh fir wreath with four candles out at the beginning of the month, sometimes decorated with baubles and sweets.
Each Sunday in December before Christmas, families gather to light a new candle on the wreath. You can find Advent calendars for children at the local supermarkets, and keep an eye out for those wreaths!
Christmas Trees
Germans were the first people to introduce the "tree of life" into their holiday traditions. Many Americans have trees up and running by Dec. 1, but Germans usually put their trees up on Christmas Eve. The adults banish the children from the room while they decorate the tree.
Instead of spending the week between Christmas and New Year's undoing their decor, the Germans enjoy their trees until Jan. 1 or even Jan. 6, also known as King's Day in Germany.
Remember to set your trees outside for the council tree pick-up, which arrives sometime after Jan. 6 to dispose of your old tree.
Nikolaustag (St. Nicholas Day)
Dec. 6 is Nikolaustag. On the eve of Dec. 5, children put a shoe or boot outside the door to be filled by St. Nikolaus with treats for those who were good and twigs for those who were naughty.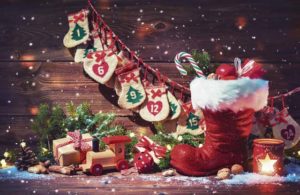 Alexander Raths/Shutterstock.com

Heilig Abend

On Christmas Eve, Christkind, literally Christ-child, delivers the gifts.

Instead of the nail-biting 12-hour wait for Santa Claus, children in Germany open their main course of gifts that night. Christmas Day is reserved for religious services and quiet family time.

Caroling

Sometime between Dec. 27 and Jan. 6, which is King's Day, boys and girls take a day to dress up as kings and move through the village caroling. Traditionally there are four children, three dressed as Magi and one carrying a star on a stick. They collect money and mark the houses they visit with white chalk.

Whatever your holiday traditions, dig into the rich local heritage Germany offers during the Christmas season and celebrate with your friends — American and German style!

(Visited 161 times, 1 visits today)

Tags: