I wasn't quite sure what to expect when we were invited to spend some time at a local, indoor archery range.  My husband and I had a conversation on the drive to Kirchheimbolanden about the last time we shot a bow.  For me, it was a compound bow several years ago and for him, it was back in the "olden days" as a Boy Scout.
What to Expect at 3HD Archery
Home away from home…that was my first impression when we entered the store.  Seriously, I'm from Georgia where stores like Bass Pro Shop are extremely popular.  The owners, Mick and Bruna, are extremely passionate about the business and about making it an experience you are not likely to forget anytime soon.  Mick discovered archery (specifically compound bows) when he was living in the US and was determined to bring his experience to Germany.  He has partnered with Mathews, Inc. to provide the leading technology in compound bows and accessories.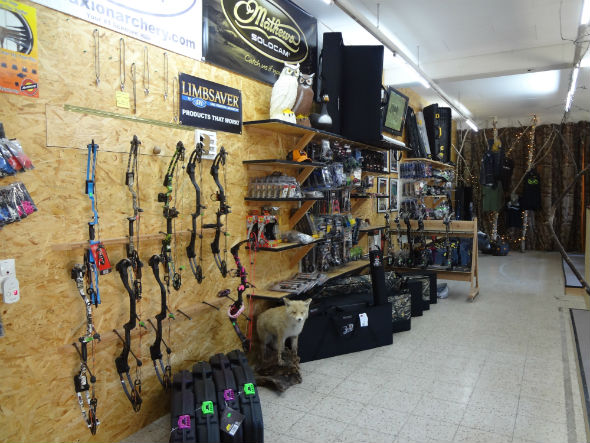 Cheryl Koller
More Than Just a Retail Store
Yes, they sell compound bows and whatever accessory your heart desires.  Yes, they will customize it for you and service it as needed.  However, 3HD Archery is so much more than just a retail store.  It is kind of like taking the compound bow division from a large US store and dropping it inside a smaller store in Germany.  Except this one is much cooler!
The high tech video indoor archery range, which is located just a short distance from Kaiserslautern, is a Techno Hunt TH400 Pro and it is the first one outside of the USA.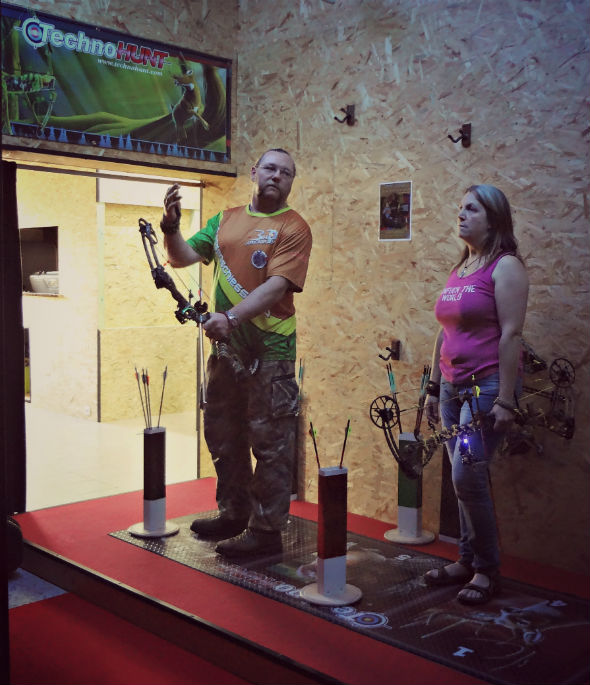 Cheryl Koller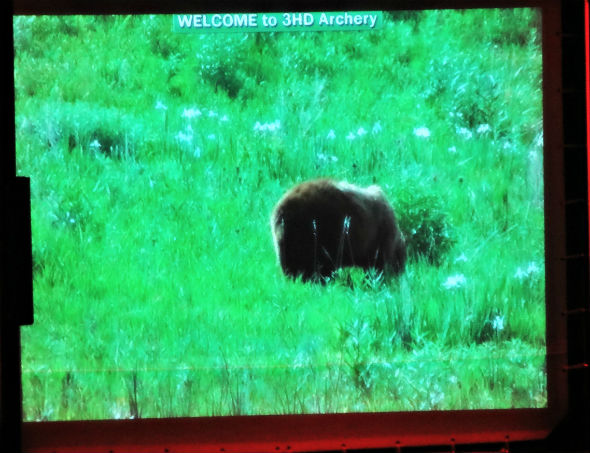 Cheryl Koller
At first, I had no idea what Mick was talking about when he started telling us about Techno Hunt.  I thought we were there to shoot arrows at a target.  You know, the foam type with a bullseye or even a foam animal of some sort.  However, these arrows are equipped with blunt tips, which you shoot at a screen of hunting scenes while sensors track and analyze speed and precision.  The projector keeps up with everything in real time.  You can compete against your own best score or bring some friends and have your own competition.  It's like the thrill of the hunt without the actual hunt.  Which is as close as you can get in Germany since bow hunting is illegal here.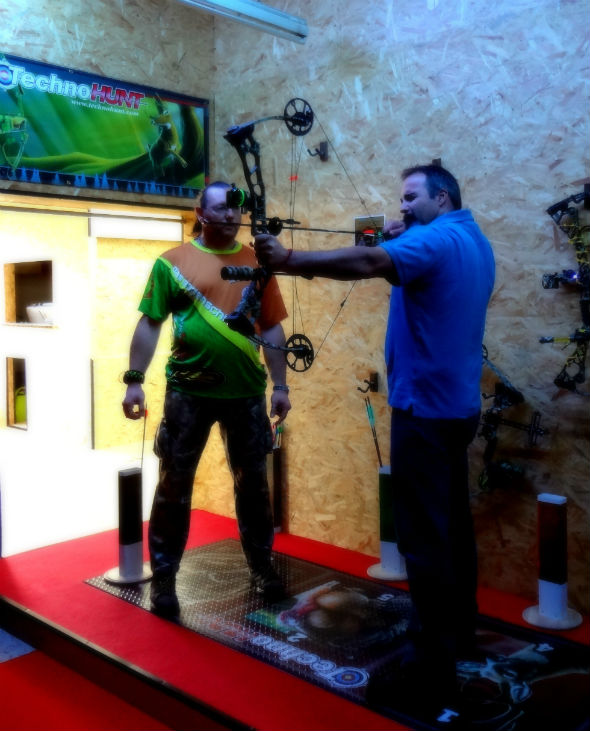 Cheryl Koller
A comfortable lounge provides a place for groups to hang out and socialize while the competition is taking place just a few feet away.  There's even a monitor so that everyone can keep up with the results.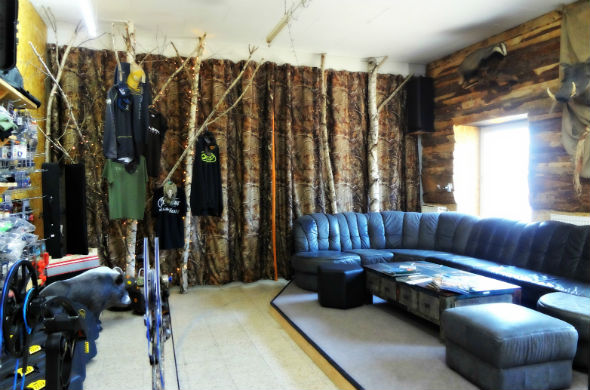 Cheryl Koller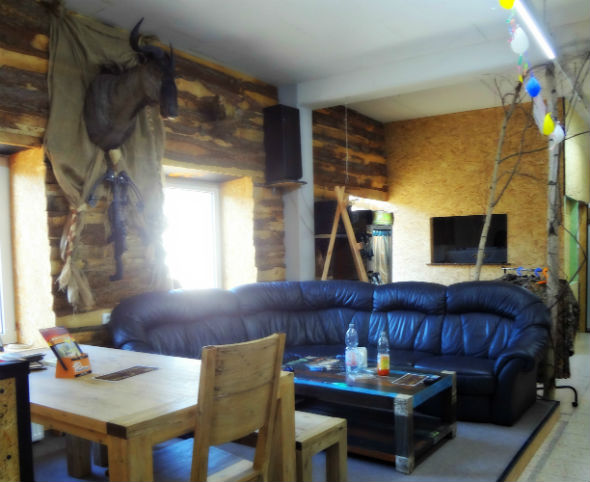 Cheryl Koller
Not really into hunting?  No problem!  The video has other options like Tic-Tac-Toe and Cricket Darts.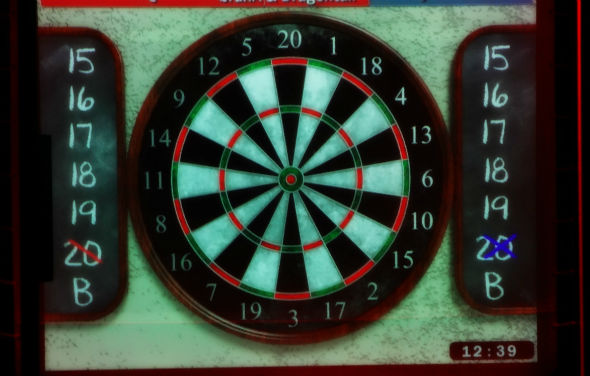 Cheryl Koller
3HD Archery also offers tournaments, leagues, and even a weekly women's night.  This would be a perfect theme for a birthday party, boy's night out, or even a small competition between friends.
For More Information
You can view their website at www.3hdarchery.com.  For pricing and further details, contact Mick or Bruna at 0800-3HDARCHERY (0800-3432724).  They are very helpful and will be happy to arrange just about any combination possible for you to enjoy!
Current hours are Tuesday – Friday, 6:00pm until 10:00pm and Saturday, 1:00pm until 10:00pm.
Located at Marnheimer Str 63 in Kirchheimbolanden (behind EUROMASTER)
About the author:  Cheryl Koller is a native of Georgia.  She is a DOD spouse, mom of 4 daughters (2 adults, 2 teens), thrill-seeker, avid traveler, and lover of food and wine.  She is a self-proclaimed Freedom-Preneur and Blogger currently living in Ramstein with her family.