I love a good museum celebrating the history of strong women who paved our way to freedom. The Frauenmuseum (women's museum) in Wiesbaden does just that so, naturally, I had to check it out.
The museum is located in a lovely townhouse in the heart of Wiesbaden. It consists of 4 levels and 3 different exhibitions: Cyclomania, Ancient statues and Clara Eleonore Stinnes, the first woman to go around the world by car.
Cyclomania
As you can imagine, men were not too fond of the idea of women getting on bicycles and poofy dresses are not necessarily what I'd call workout gear either, so a lot had to change. And it did. Throughout the decades and centuries, bicycles and women's clothing evolved from balance bikes to the Puky baby bikes we buy in all colors of the rainbow now to get our children, boys and girls alike, started early. English descriptions are available.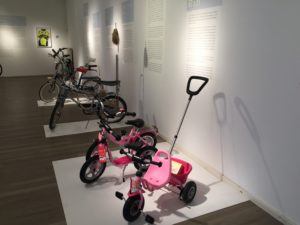 Leonie Milde | Military in Germany
Of Goddesses and Wisdom: Ancient Statues
Surprisingly small, historical works of art depicting women of different cultures from all over the world await on the third floor.
Clara Eleonore Stinnes
Back when cars were not the Land Rovers we use for cross-country trips today, race car driver Clara Eleonore Stinnes and a camera team embarked on the journey of a lifetime. They set their imaginary sails, headed east and crossed all of Asia before setting their actual sails to the United States and finally ending up in Berlin almost two years later. It's a fascinating and inspiring story that can be tracked in multiple movies, such as her original documentary and a more recent Hollywood production, which features original footage. Both can be viewed at the museum in full-length, just in case you wanted to bring some popcorn.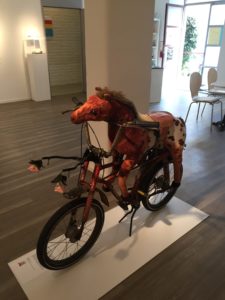 Leonie Milde | Military in Germany

Coming Up

A frequently changing variety of exhibitions makes sure that you will always want to come back for more.

August 26 – September 10: Photography days Wiesbaden. A colorful array of photographs by female artists from all over the area.

September 17 – December 6: The Cold Look. Photography, Film and Performance. Yama Rahimi shows patriarchal structures and the resulting suppression of women in Afghanistan.

November 5 – January 21: It Takes Two To Tango. Painter Alin Klass focuses on social interactions between and portraits of strong and powerful women throughput history.

Getting There

Wiesbaden is, well, in Wiesbaden, circa 1.5 hours from the KMC and no more than 2 hours from Stuttgart.

Admission costs €6 per adult and supports the next exhibition.

The museum is open on Wednesdays and Thursdays from 10a.m. to 5p.m., and on Saturdays, Sundays and Holidays from noon to 5p.m.

Author's profile: Leonie is a poetry-loving literature student with a passion for small towns, road trips, and breakfast food being served at all hours of the day. When she isn't hopping from one bargain flight to the next, she is making sure you're hanging with the locals and staying updated on events in your area.

(Visited 74 times, 1 visits today)

Tags: