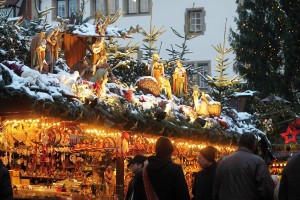 Fairy Lights and Christmas Magic
During the weeks of Advent the Stuttgart Region is bathed in a special yuletide glow. Nearly 300 nostalgic Christmas markets attract visitors to enjoy a leisurely stroll around and generally get in the mood for Christmas.
Stuttgart Christmas Market
Stuttgart's Christmas Market will be held from 26th November to 23rd December 2014. With its 287 stalls and a tradition of more than 300 years, it is one of the loveliest in Germany and one of the oldest and largest of its kind in Europe. It was first documented in 1692, though its roots go back much further. The stalls stretch from the New Palace and the Königsbau, across Schiller Square with the Old Palace and the Collegiate Church, to the Marketplace. Ornately and lovingly decorated, with much attention to detail, they are Stuttgart Christmas Market's trademark, with a reputation that has spread far beyond the bounds of the city. The stallholders are rewarded for their pains with a prize awarded each year by a jury for the Christmas Market's most beautiful stall. On the adjacent Karlsplatz visitors can sample Nordic specialities in the Finnish Christmas Village, such as Glögi (mulled wine), Finnish beer, salmon grilled on an open fire and reindeer ham. During Advent, Stuttgart's town hall is transformed into a gigantic Advent calendar. Each day a "door" is opened, revealing by degrees the coats of arms of Stuttgart's boroughs. The opening ceremony will take place at 6 pm on 27th November in the Renaissance inner courtyard of the Old Palace. Every evening there will also be a concert of Christmas music in the courtyard. Stuttgart Christmas Market is open daily from 10 am to 9 pm, and on Sundays from 11 am to 9 pm.
Additional information under: www.stuttgarter-weihnachtsmarkt.de
Ludwigsburg Baroque Christmas Market
Ludwigsburg Baroque Christmas Market, with its illuminated arches, angels and more than 175 Christmas stalls, will enchant visitors from 25th November to 22nd December 2014. Its illuminations are no less special than the arrangement of the stalls, which reflects in this miniature yuletide town the symmetry and straight lines of Ludwigsburg's streets and the gardens of its famous Baroque palace. There's a daily programme for children with a puppet show, marionettes, conjurers and clowns. In the evenings there's atmospheric music to round off the day. The Christmas Market is open daily from 11 am to 9 pm.
Additional information under: www.ludwigsburg.de
Esslingen Christmas and Medieval Market
At Esslingen's Medieval and Christmas Market, from 25th November to 21nd December 2014, merchants in historical costumes will peddle their wares just as they did hundreds of years ago. Dyers, felters, blacksmiths and glass blowers will demonstrate traditional crafts, and stilt walkers, gleemen, fire eaters and minstrels disport themselves around the 180 stalls. All of these attractions – along with the torchlight procession up to the castle, the concert of medieval music in St. Paul's Cathedral and the atmospheric backdrop of timbered houses and romantic alleyways – are what make Esslingen's Christmas and Medieval Market an experience second to none. A visitor survey carried out by Hagen College, covering no fewer than 1300 Christmas markets in German-speaking countries, showed that Esslingen topped the list of the most popular Christmas markets. In the categories "age-appropriate offers" and "value for money" Esslingen took first place, outclassing Nuremberg, Vienna and Salzburg. Christmas Market and Medieval Market are open daily from 11 am to 8.30 pm.
Additional information under: www.esslingen.de
Other Christmas Markets in the Stuttgart Region:
Bad Wimpfen
Böblingen
Fellbach
Göppingen
Kirchheim/Teck
Reutlingen
Schwäbisch Gmünd
Schwäbisch Hall
Schorndorf
Tübingen
Waiblingen
You'll find even more Christmas Markets in the region under www.stuttgart-tourist.com

Image © Stuttgart Tourist Office

(Visited 5,155 times, 1 visits today)

Tags: